An autoBIOGRAPHICAL MINISERIES
Part One of how Thalidomide affected my life….
Do you remember that Steve Martin movie where his character starts out by saying "I was born a poor black child." ? He said that cuz everyone he looked at, his whole family, was black. At such a young tender age we reflect what we see, might be a way to explain why we think we are what we see.
This is why i think i started out in life thinking i had arms just like everyone i saw, not the short little ones i was born with. To this day if i close my eyes and move my arms and hands to music , i see your arms moving, not mine. It might explain why even now when i see a video of me i am still shocked to see how short they are!
This set a bit of a precedent with how i lived the next 2 decades of my life, in total denial that i was born without forearms and missing several fingers. If, as happened often, someone said "you have short arms," i would say "no i don't" and quickly change the subject.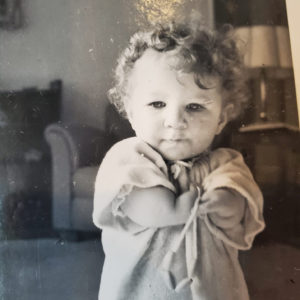 I learned early on something was wrong with me and if there was any question of that truth, it was confirmed the day i was taken out of kindergarten and put in a hospital a long ship ride away.
I had been told i was going to the circus cuz my mother could not handle telling me i would not see her again for a LONG time.
I was put into a room all alone for 3 days. It was to quarantine me before moving me to the large childrens' room. I was strapped down for hours on end. I only saw "nurses" when they brought food or changed my sheets due to my wetting the bed. I remember so vividly crying for 2 long hard days. I had NO idea what was happening to me and i lost any control a little tiny 5 year old ever had. I couldn't eat when i was hungry, i couldn't pee in a toilet when i got the urge. I had no toys either due to a mix up upon admission. At the end of the second day i was brought into the big room with a dozen kids near my age. It was so exciting to meet them, talk to peers. I was told the next day I would be staying in the room, my bed was waiting.
It wasn't that great, i was still strapped into bed, but now only at night. it was so tight, i could no longer sleep on my side, i could not roll over. each day I was taken to a room where the white coats would put a new heavy plastic and metal "arm" over my left arm. It wrapped around my other shoulder and had a hook at the end where once were my fingers. if i pulled my right shoulder it would open the hook on my left "hand". it was awful, it was hot and sweaty, but most importantly it was not me.
Whatever it was, it said to me for the 1st time that i was not enough.
I hated it, but i must not have let on cuz i wanted these people to like me. I thought that was my only way out of this prison. I would do everything they told me to and maybe i'd get to go home.
The hospital was DuPont Institute in Wilmonton, Delaware. The visiting hours were every 3 weeks on a Sunday for 2 hours. I got to see my Mommy and Daddy all of once in the 6 weeks i was there.
Finally i got to go home and back to the kindergarten class i had once loved. !st day back i turned quickly, my prothesis moved faster than i could control and i accidently hit a little friend on her cheek and made her cry.
That was it!
I was done.
The next part of this story my mother told me. I don't have actual memories, but i have no reason to doubt it.
I did not have a bowel movement until the prothesis was permanently removed. (Not just at night to sleep).
Each year on my birthday the subject of using it, of putting that torture treatment back on was brought up. My response was to cry and run to my room.
This was the only time i ever talked about my arms with my parents. And it was not actually me doing the talking.
The only other time i admitted i had short arms is when i was taught at 1st to say "God made me this way" to answer the never ending question "what happened to your arms". It evolved into "I was born this way" as my family grew away from religion.
I remember once being so sick of this response, i told a stranger, someone my age of about 10, "I was run-over by a train." When i told my mother i did this, i was punished slightly while i remember she laughed a bit.
This might have been the start of my realizing that humor would be the coping mechanism i would end up using the rest of my life.
At the same time my mother was fighting to get me into regular schools when the nuns flat out would not take me (thank goodness, because my older sister went and the nuns were terrible to her).
She was fighting in a weird way to keep me dependent on her.
Cliffhanger….