SETTING OUR STORY STRAIGHT
The true story of thalidomide distribution in the United States lay buried for over half a century.
Author, Jennifer Vanderbes, pored through thousands of FDA documents, extensive court records, and archives on two continents to follow the trail of thalidomide far beyond what was previously reported publicly. A groundbreaking reconstruction of the events of 1956-1964 will be presented in her forthcoming book  – WONDER DRUG: THE SECRET HISTORY OF THALIDOMIDE AND ITS HIDDEN VICTIMS (Random House, 2023).
Her efforts not only bring this dark chapter of US history to light; but have brought many US survivors together, who had previously not known each other, nor even their own connections to the drug.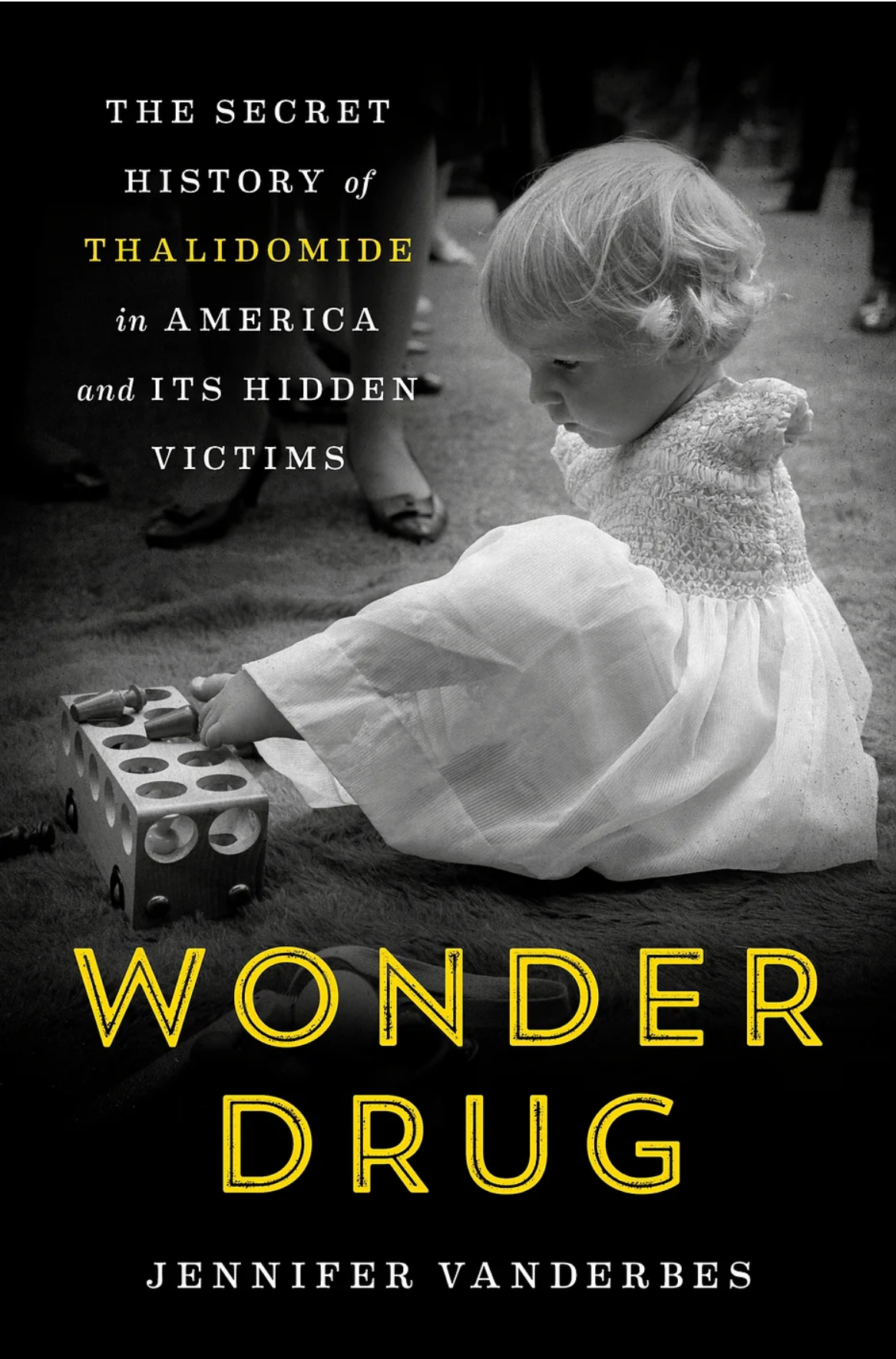 The upcoming Random House investigative book by Jennifer Vanderbes.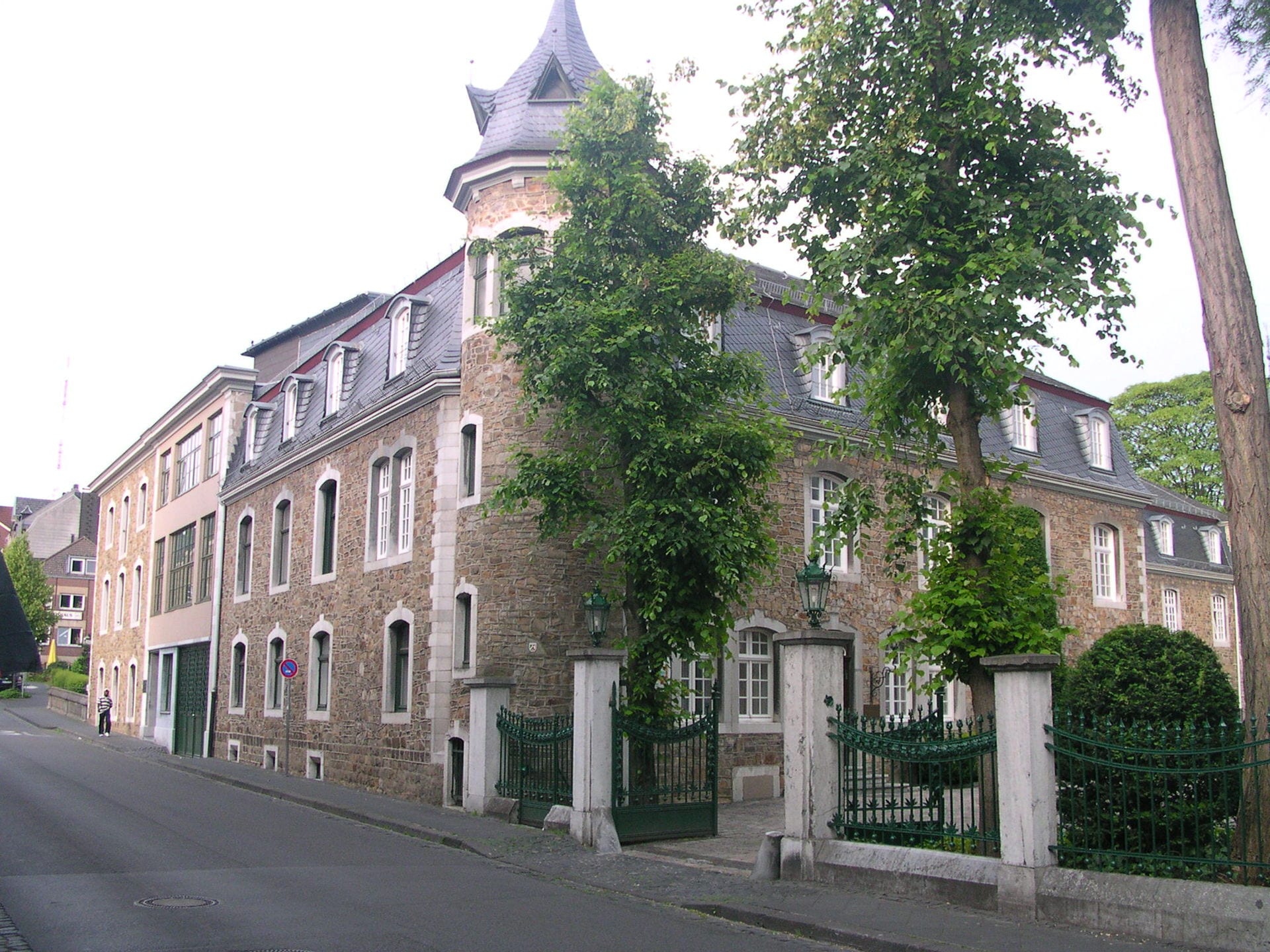 Grünenthal headquarters in Stolberg Germany. (Photo courtesy Norbert Schnitzler)
THE THALIDOMIDE Disaster in Germany
In November 1961, German citizens were shocked to learn about thousands of babies born with severe birth defects in their country linked to a popular drug.
Most of the babies were born with deformities of the arms and/or legs (phocomelia). Additional injuries were sometimes present in the kidneys, heart, gastrointestinal tract, reproductive organs, ears and eyes.
The sedative, a non-barbiturate alternative to Valium, had been sold for five years by the time Chemie Grünenthal withdrew the drug from the market. By then, thalidomide had been sold by prescription or over-the-counter under many brand names, including Distival and Contergan, in forty-six countries. 
FALSE NARRATIVE IN The United States
Decades later, people who recall headlines from 1962 often say, "thalidomide was never available in the United States." Their recollection was probably skewed by a story that emerged slowly over a tumultuous two year period in U.S. History. 
When news of the tragedy in Europe broke in April 1962, the American media reported that the U.S. Food and Drug Administration (FDA) had never approved thalidomide for sale in the United States. 
Although American pharmaceutical company Richardson Merrell filed a New Drug Application (NDA) for thalidomide in September 1960, Dr. Frances Kelsey declined to approve it. With doctoral degrees in both medicine and pharmacology, Dr. Frances Kelsey, a new FDA employee, knew that drugs can cross the placental barrier and harm an unborn baby. 
Richardson Merrell resubmitted the NDA several times without ever providing the information she sought.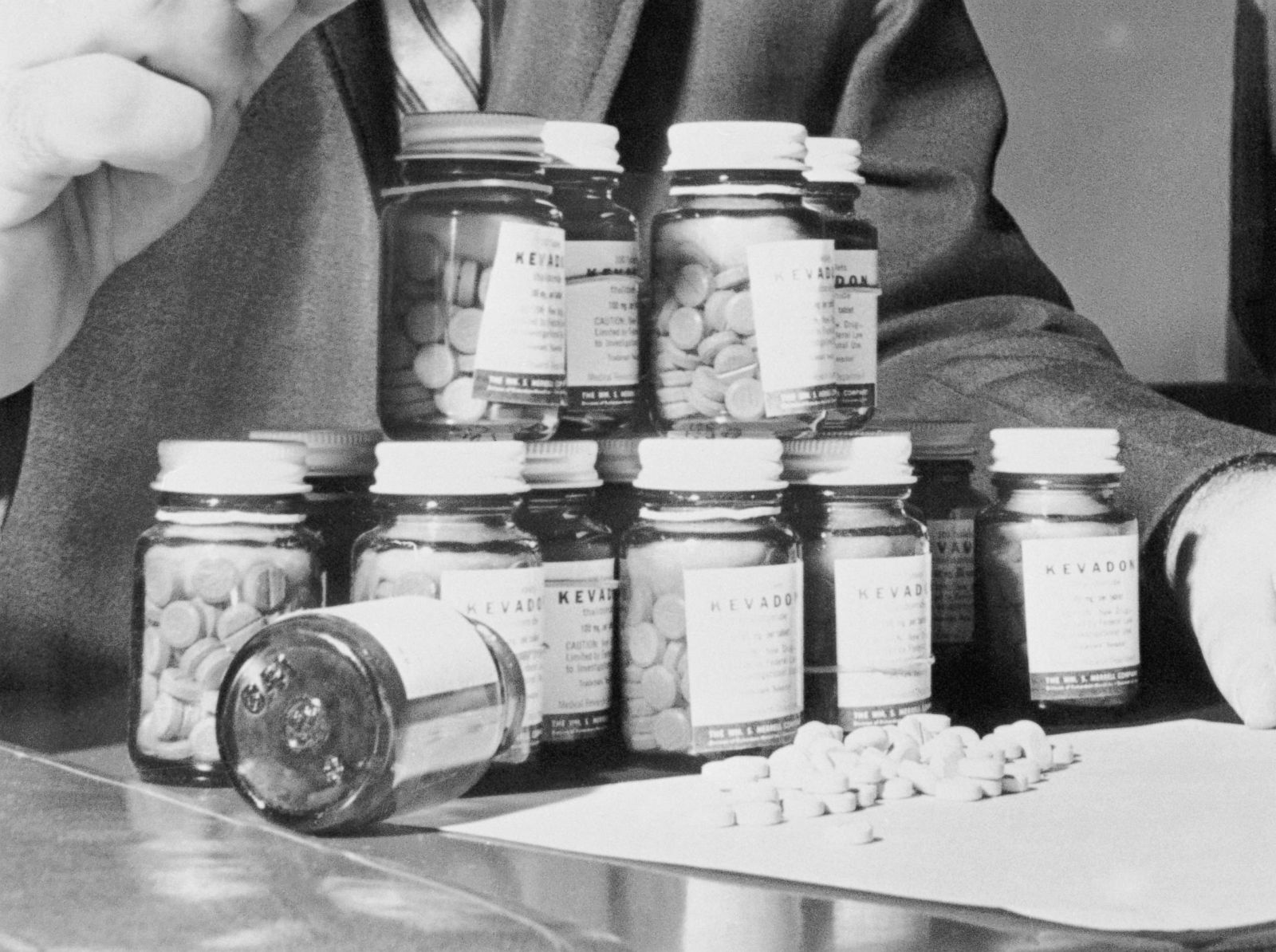 Thalidomide in the US was to be released under the name Kevadon.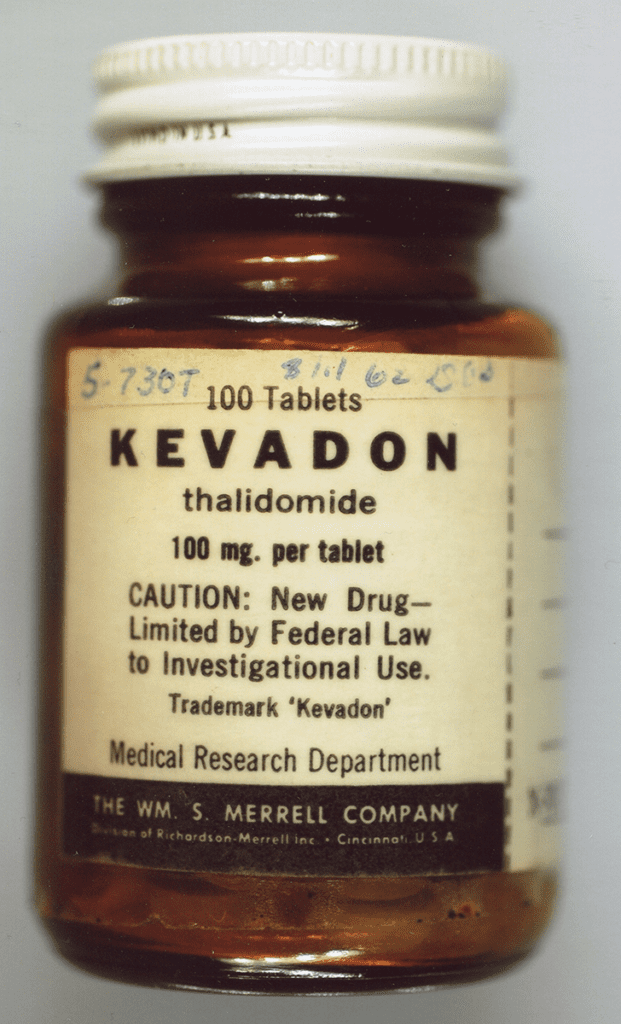 A seized bottle of thalidomide, known as Mer-30 or Kevadon in clinical trials (Photo courtesy of the US FDA)
THE THALIDOMIDE PROMOTION SCHEME
The FDA eventually revealed that thalidomide had been distributed widely as samples in a clinical trial, but this information was treated as a minor event in American newspapers, apparently because the FDA said no women who took the medication had so far delivered a baby with birth defects. They were wrong.
Details emerged over the coming months and in early August 1962, newspapers reported that Richardson Merrell distributed more than 2.5 million doses of thalidomide to more than 1,200 U.S. doctors. Its clinical trial evolved into an unauthorized marketing program.
Richardson Merrell promoted the samples as a safer alternative to other sedatives. Company executives believed the drug would be approved in a timely fashion. They hoped to advance awareness of the new tranquilizer and maximize the number of prescriptions written during the most anxious time of the year: the Christmas and New Year's holidays.
According to an internal FDA memo dated October 2, 1962, the "Manual" used by salesmen "shows that the doctor was provided with information assuring him of the safety of the drug and reveals the presence of a physician's sample promotion scheme rather than a bonafide investigational program."
FDA records, and other sources to be revealed in the upcoming book by Jennifer Vanderbes, document that German pharmaceutical company Chemie Grünenthal (now known as Grünenthal) licensed American companies Smith Kline and French (now GlaxoSmithKline) to manufacture thalidomide from 1956-1958 and Richardson-Merrell (now Sanofi), to produce it from 1958-1962.
Contrary to popular belief, thalidomide was not primarily a morning sickness remedy. The medication was referred to in FDA documents and the media as a sedative, tranquilizer or sleeping pill. Both companies distributed samples to doctors for testing on men, women and children for various symptoms including nausea.
FAILURE TO PROSECUTE RICHARDSON MERRELL
Many additional details about the FDA investigation were  never reported to the media. After receiving high praise for protecting thousands of babies from serious birth defects (by the FDA declining to approve the drug for sale), it was if the investigation of the truth – the real truth – was dropped. There was no way to know the exact number of "thalidomide babies" born in the U.S., much less find them all.
By the time the FDA investigation concluded, the official number of thalidomide babies born in the United States was seventeen. Only nine of the mothers received thalidomide as a sample in this country. The other eight mothers said they obtained the drug in Europe or from a family member who had traveled out of the country.
While the exact number will never be known, FDA records suggest there were many more than nine or even seventeen.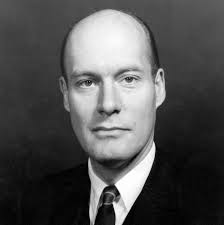 Nicholas Katzenbach, U.S. Attorney General 1965-1966 (Photo courtesy of the John F. Kennedy Library and Museum.)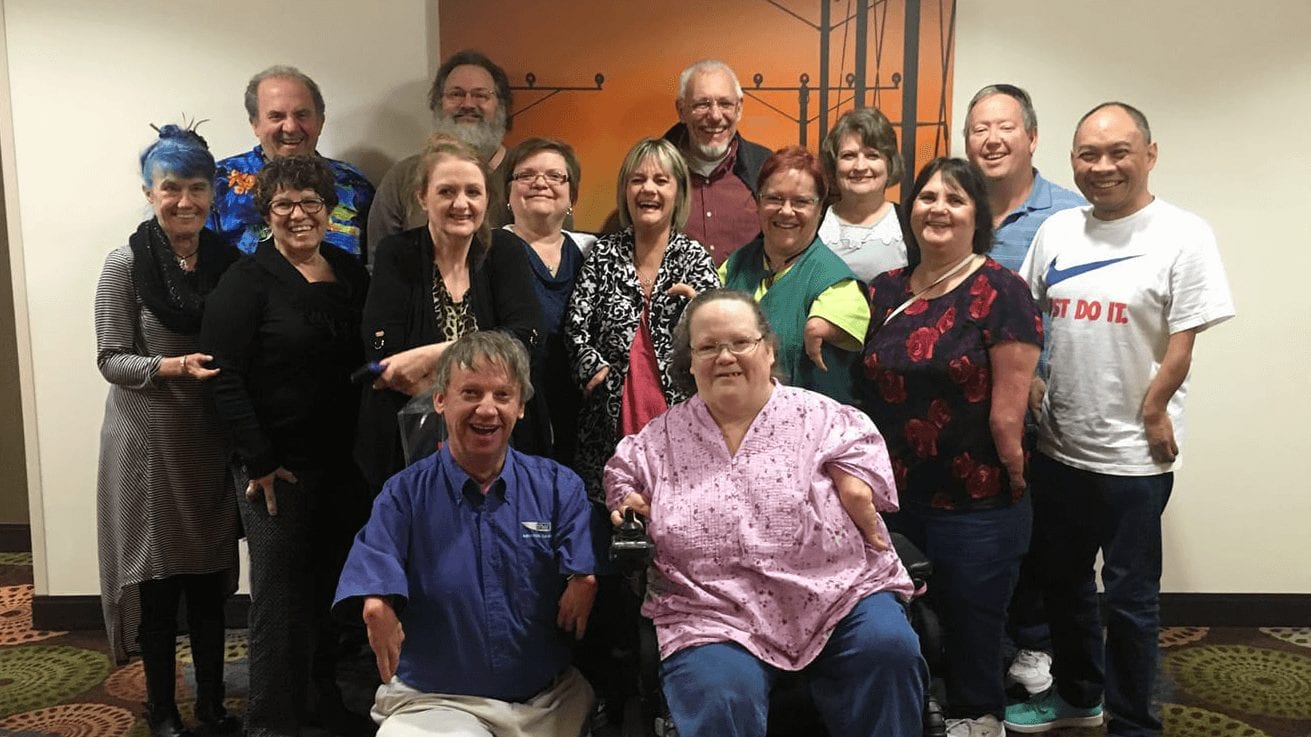 FINDING OUR TRIBE
Through social media, dozens of thalidomide survivors born in the U.S. began finding each other in 2016. When a small group of us gathered for a weekend two years later, it was a shock to meet others who shared our life experience. (Read about that meeting.)
Once we learned our injuries might have been caused by thalidomide, there was little we could do as individuals. In most cases, the statute of limitations for us to take legal action against the pharmaceutical companies had expired.
HOW MANY BABIES WERE Maimed by Thalidomide samples distributed to pregnant women by AMERICAN DRUG COMPANIES?
Almost every available source, published from 1962 through 2019, states that seventeen "thalidomide babies" were born in the U.S.
Shockingly, the FDA never publicly revealed that the number 17 was a likely undercount. US thalidomide babies, now adults, have never been truly counted, recognized or compensated for their enormous losses.
With an estimated 40% infant death rate and an unknown number of miscarriages, the damage caused by the reckless distribution of thalidomide samples to pregnant women in the United States is staggering.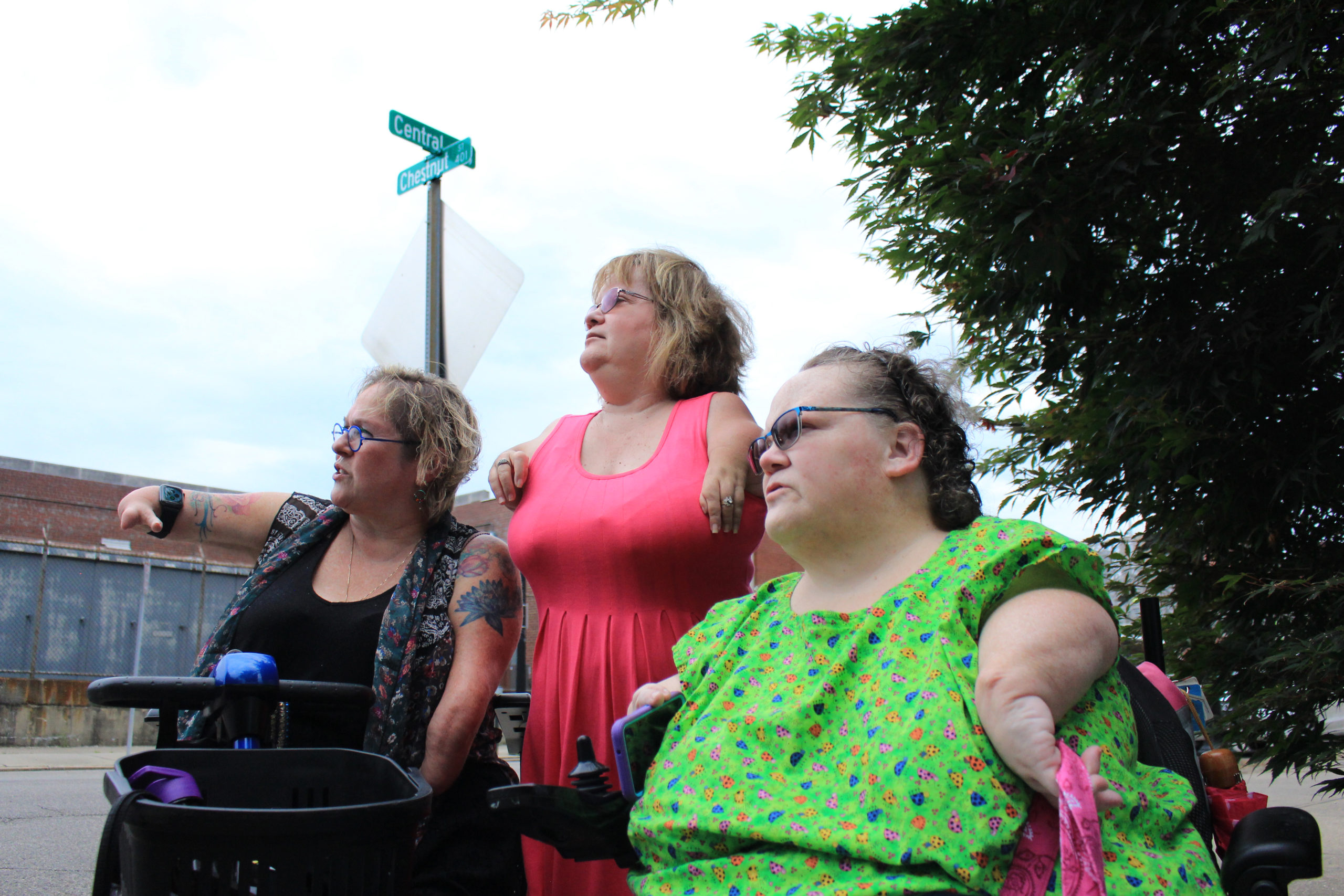 Three survivors of thalidomide from Cincinnati, Ohio, a scene from the upcoming documentary film.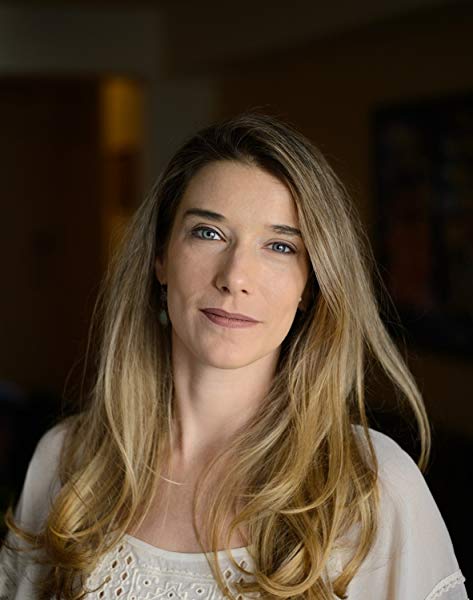 NEW BOOK FROM RANDOM HoUSE WILL TELL The TRUE STORY Of thalidomide in the United States FOR THE FIRST TIME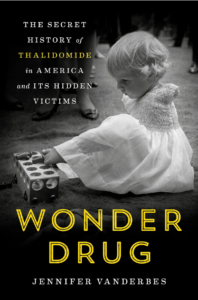 Award-winning author Jennifer Vanderbes discovered the existence of a growing community of US survivors who had begun to find each other, and was the first to begin to interview them, and indeed bring individuals together.
She had been awarded a grant from the Alfred P Sloan Foundation and a publishing contract with Random House and HarperCollins UK to write a book about Dr. Frances Kelsey. Dr. Kelsey, an FDA employee, prevented thalidomide from being approved for use in the United States. It was while researching the book that Vanderbes learned of the actual hidden victims of this unique US tragedy.
"WONDER DRUG: the Secret History of Thalidomide in America and its Hidden Victims" will reveal the whole truth about thalidomide in the United States for the first time.
Vanderbes was named a 2019-2020 National Endowment for the Humanities Public Scholar for her work on "WONDER DRUG."
More than sixty years after the International thalidomide disaster shocked the world, American thalidomide survivors will finally be acknowledged. The book release is expected June 27, 2023. 
ADVANCE PRAISE FOR "WONDER DRUG: the Secret History of Thalidomide in America and its Hidden Victims"
"Vanderbes's thorough investigative work and her lucid prose bring to life a little-known American tragedy. WONDER DRUG is a compelling read and reminds us why regulatory scrutiny of new drugs matters."
–  Abraham Verghese,
New York Times bestselling author of CUTTING FOR STONE
"A tale of scientific detective work, corporate corruption on a grand scale, and human resilience in the face of repudiation and tragedy. This is narrative nonfiction at its most compelling."
– Margot Lee Shetterly, New York Times
bestselling author of Hidden Figures
"WONDER DRUG is both a first-rate medical thriller and the searing account of a forgotten American tragedy. Drawing on six years of groundbreaking research and guided by a keen eye for the indelible detail and an unwavering moral conviction, Jennifer Vanderbes has produced a shocking saga of pharmaceutical malpractice."
– Patrick Radden Keefe, New York Times
bestselling author of author Empire of Pain